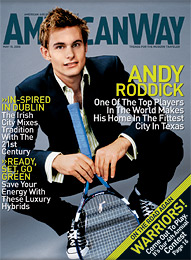 American Wayという雑誌にアンディ記事が掲載されています。この写真けっこう良いです。
記事全文
MAKING A RACKET
by Allison Winn Scotch
BE IT OVERPOWERING HIS OPPONENTS WITH HIS ROCKET SERVE OR SIMPLY POWERING HIS JET SKI AROUND LAKE AUSTIN, TENNIS'S ANDY RODDICK IS MAKING A RACKET
There's nothing unusual about a rousing game of tennis between neighbors. But if you live in Austin and the guy next door just happens to be Andy Roddick, you best break out the body armor. Currently ranked number three in the world, Roddick holds the record for the fastest serve on the planet, clocked at a blistering 155 mph. Try eyeballing, much less returning, that baby. It's no wonder he routinely whips 10 to 20 aces per match by his whimpering opponents.
Born in Omaha, Nebraska, the last in a line of three boys, Roddick moved to the Texas capital at age four. Seven years later, the clan packed up and headed to Florida, where both he and his brothers thrived on the junior tennis circuit. At 19, Roddick plunked down a chunk of his prize money for a home in Boca Raton, but in 2003, he opted for a little Lone Star living, specifically, a light-flooded, contemporary manse on the shores of Lake Austin. And although he spends nearly 11 months of the year on the road, hitting spots — and shots — from Tokyo to Tennessee, home is where the heart is (not to mention a jet ski or two).
Why did you decide to move from Florida, your old home base, to Austin?
I left Austin when I was 11, and I've always wanted to get back. My two brothers live in San Antonio, and that was a big factor. My niece and nephew are four and two, and I wanted them to know who I was as they grew up, since I'm always traveling.
People are swarming to Austin like bulls to a rodeo clown. What makes the city so darn appealing?
I just love the vibe there. You have everything: It's one of the most active cities in the U.S. in terms of outdoor activities, it has a great live-music scene, and it doesn't have the "scene-y-ness" of New York or L.A. You have a bunch of hole-in-the-wall bars where you can just blend in. It's fun.
You mentioned the music scene, which is so phenomenal it's earned Austin the title Live Music Capital of the World. Of the 100-plus venues in town, where do you like to go?
You can pretty much just walk down Fifth Street and put your ear to a door. Red Fez is pretty good. Chuggin' Monkey is also good. Pretty much any bar you walk into will be solid. My musical tastes are all over the board. Kayne West is awesome; so is Modest Mouse. And you gotta love Elton John.
For a relatively small city, Austin has a high quotient of celebrities, like Sandra Bullock and Matthew McConaughey. Are you hassled a lot when you go out?
Part of the beauty of Austin is that people know that I — or Lance Armstrong, or whoever — live there, so they just see me as a fellow Austinite. I get stopped a lot more in L.A. or New York. Especially New York, because we have the U.S. Open there every year, so it can get a little hectic. But I do love going there for those three weeks each year.
We've heard you collect vintage T-shirts. What's behind the obsession?
I started collecting them several years ago because I wanted something original that everybody else wasn't wearing. That and the fact that I enjoyed the hunt. Since I travel a lot, it's fun to find the local thrift shop and plow through all the racks looking for the [shirts] with the funniest sayings, which make great conversation starters.
And do you shell out major coin for them?
I think the most I've ever paid was $30. So nothing bank-breaking. I actually have too many shirts right now; I think about 30. After a shopping spree, I mostly give away the bulk of what I find to friends. Really, I don't shop that much. I have literally four pairs of jeans in my closet in Austin. I have this house with huge closets, and I'll never come close to filling even one of them.
Speaking of your house, it sits on a lake. How do you make the most of it?
My favorite day, if I could have a day off, would be when it's super hot out. I'd go out with friends on my boat. I have a couple of jet skis, so we'd take those along, too. There's a cliff where we jump off — it's a 30-foot drop — by a cove off of the dam. Lake Austin is basically a dammed-off portion of the Colorado River, and there are all these outlets and nooks you can explore. It's gorgeous.
What about this place we hear you like to go to out by the lake, the Dry Creek Saloon?
Yeah, there's this bar in the middle of a nice neighborhood that's been there for like 50 years. This old lady owns it. She's about 2,060 years old and grouchy, which is all just part of the charm. You could be there Friday night at nine and it could be packed, but if she decides to close, it's like, "Too bad, we're closed. I'm going home." The chairs have been there for 50 years; they're rusty and the nails are sticking out, but it's our place. It's a local legend.
Back to your house again. Did you decorate it yourself?
I had help, a guy named Sandy Senter, from Sandy Senter Design. When I first met him, we went through a million magazines and he had me circle anything I liked — a refrigerator, a chest, whatever. We went room to room that way. The house feels young, but it's still really nice. I like the look of modern furniture, but I still want my house to have a cozy feel to it. According to Sandy, I tend to like a neutral palette with the primary color red as an accent. My house in Florida feels like a frat house, just stuff everywhere, but I'm going to have this house for a while, so I wanted to put time and thought into it.
You're only 22, though, so the house can't be too grown-up, right?
My favorite piece of furniture is my pool table, if that says anything. It was my first major purchase, and it's the first thing you see when you walk in the door.
Plus, we hear you've added some elements that really make the house your own.
Yeah. I'm currently converting a section of the garage into a gym, and I'm working with a design firm to create this painted mural of all the people who inspire me, like Nelson Mandela and Cal Ripken Jr. It's by far the coolest thing I've done to the house. I also love having pictures of me and my family and friends around. I'm too lazy to put them in frames, though, so we hung a school-size corkboard in my office, and I'm stuffing it full of memories.
Men's Fitness voted Austin one of the fittest cities in the country. Until your gym is done, where do you go to work out?
Town Lake is really cool. So if you wanted to exercise, you'd run or bike along the trail there. There are tons of other people out there doing it as well. There's also a natural spring-fed pool called Barton Springs. If you're going to Austin, you'll want to see it.
What about when you want to play a few sets? Do you just go and mix with the weekend warriors?
Where I hit depends on what type of surface I need to train on. Mainly, I play at Westwood Country Club, because they have both hard-court and clay surfaces. Courtyard Tennis Center has indoor courts that I'll practice on if the weather is bad. Other than that, I sometimes hit at Barton Creek Resort or at Caswell Tennis Center, where I took my first lesson.
You're bound to have worked up an appetite by now. Where would you go if you had a hankering for some good ol' Texas barbecue?
My absolute favorite place is the Moonshine Patio Bar & Grill. The corn-dog shrimp and beer-battered asparagus are unbelievable. If I could eat at only one restaurant, that would be it. But Stubb's is a great place for barbecue. They also have live music, which is always a plus. I used to go to the Oasis a lot with my parents when I was a kid. The food is a blend of Tex-Mex and American, but the real draw is that you look out over Lake Travis. The ambience is unbeatable.
If you had friends in town for the day, where would you send them?
To the Congress Avenue Bridge. Bats fly out from under the bridge every night at dusk, and you can go down there and watch them. It's crazy. No one's ever gotten hurt, so I guess the bats aren't dangerous.
But don't sue you if they are, right?
Yeah, exactly.
And where would you recommend they stay?
You've got to stay at the Driskill. It's located right at the start of Sixth Street, right in the heart of downtown, so you just walk right out your door and you're at the bars and the music scene.
You're a big Nebraska Cornhuskers fan. Who would you say are more rabid, UT fans or Nebraska fans?
I think we're both obsessed. They're two of the top schools in terms of football and their fans. I mean, people live and die football there. Unfortunately, last year, UT won the contest between them. I like to say Nebraska is in the "rebuilding" process. I'll tell you, it's tough being a Nebraska fan living in Texas, that's for sure.
You're actively involved in your own charity, the Andy Roddick Foundation, which to date has raised almost $2 million to benefit underprivileged kids. Why would someone your age and in your profession dedicate himself so thoroughly?
When I was 17, I asked Andre Agassi about his biggest regret. He surprised me with a total nontennis answer. He said that it was not starting his charitable foundation early enough. This made me realize why Andre is such a special person. So, four years ago, we established the Andy Roddick Foundation, and today, we're a viable source in helping children with various needs. One of the coolest things about the foundation is that it's 100 percent volunteer. There is not one person on payroll, and there is not one dollar that doesn't get put back towards the kids. It just shows how special the people who work with me are.
Elton John played a concert in Austin to raise money for your charity. You mentioned you were a fan of his, but this seems like an unusual pairing. How did you two become friends?
Believe it or not, he's a huge tennis fan. Last year, my publicist told me that Elton John wanted to interview me for Interview magazine. All of a sudden, I'm sitting in my hotel room, and he's firing questions at me about tennis. I was such a fan of his; it was shocking. But he's such a sweet man, and I did his charity event called Smash Hits in Newport Beach this past year. Andre and Pete [Sampras] have done it forever, and when Pete retired, I slid into his spot. Elton said, "If I can ever do anything for you, let me know." So I let him know. It wasn't lip service. He came to Austin last April. It was very cool.
You're gearing up for Slam season. Do you do anything differently, mentally or physically, to prepare for the Majors?
I don't really treat Slams any differently than the rest of my season. I put the same amount of effort into any tournament I play and just try to focus on winning one match at a time. A win is a win.
Thanks in large part to your huge serve, I might add. Have you ever hurt anyone with it?
Hurt? No. But it probably stings a bit. I mean, I've hit people with it, but there's only so much a fuzzy ball can do to you.
記事リンク先:
http://americanwaymag.com/